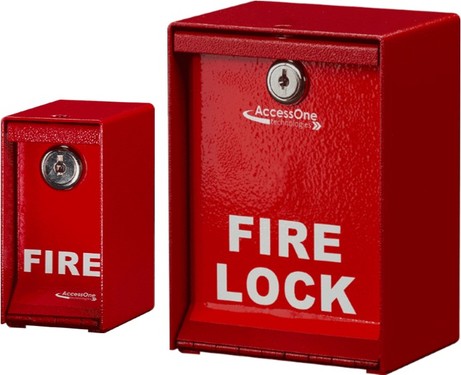 Allows emergency access for doors & automatic gates
The Fire Lock Box Series allows emergency access through automatic gates and pedestrian doors. The universal design works with both Knox Locks and padlock applications allowing Dealers and Distributors to stock a single box. It is available in a standard size and streamline size to blend in with most gooseneck posts.
​Universal design works with both Knox Locks and Padlocks - Simply a single box to stock.
Patented Mini Fire Box is ideal for gooseneck applications with its streamline design.
Rugged metal housing with built-in stainless steel hinge for outdoor use.
Standard size, mini size, and stainless steel mini size available.​​​​​​​
---
FLB100 Standard Fire Lock Box

The FLB100 is a standard size fire box for applications using digital locks, key lock boxes and other controls. The universal design works with both Knox Lock and Padlock applications.

Universal design works with both Knox Locks and Padlocks - only one box to stock.
Built-in lock for Knox Lock applications. Built-in microswitch for Padlock applications.
Rugged vandal resistant housing painted fire red for good visibility.​

FLB100-Mini Mini Fire Lock Box

​The FLB100-Mini is a patented design that offers a streamline look for standard 2"x2" gooseneck applications. The universal design works with both Knox Lock and Padlock applications.

Universal design works with both Knox Locks and Padlocks - only one box to stock.
Built-in lock for Knox Lock applications. ​Built-in microswitch for Padlock applications.
Stainless Steel version available